Women's Rights & Laws
Building Awareness on Rights & Laws for Gender Equity to grassroots groups.
Gender
Trainings for Women/Men and Institutions.
Adolescent Education
To schools, colleges and communities
Institution Building
To Panchayats SHGs & CBOs.
Resource Persons
Resource Persons for RTI, Gender, Adolescent Education, Women and Law.
Training Materials
Posters, Handbills, Hand books/Pamphlets and other reading materials for specific campaigns and trainings.
Consultancy
To internal complaints committe of public and private sector institutions.
Expertise
Provide expertise as external member of the Complaints Committee.
Legal
Legal support to handle issues.
RTI
Guidance from RTI expert to handle issues.
Guidance
Guidance from experts on the design and production of training manuals.
Documentaion / Library
Books and Documented Materials.
Paralegal Facilitation Force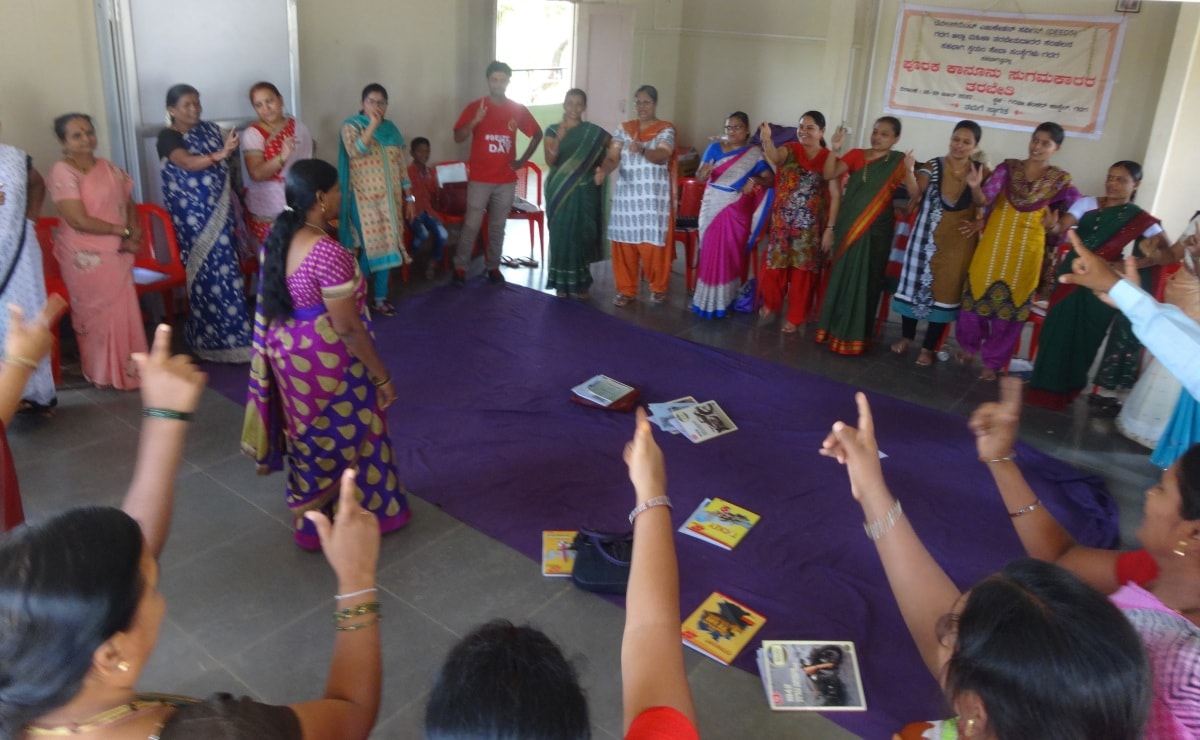 Deeds has been training Paralegal facilitators from five Districts of Karnataka for the last four years. The aim is to develop competency and knowledge of social activists for legal interventions at the grassroots level on the issues violence against women.
The data on Indian women unravels a grim scenario in which Indian women live. The mindset of patriarchal society has long undermined the natural competence of woman, her attitudes and worldviews and creativity, and rendered her as a second class citizen . This has resulted in her victimization from birth to death in innumerable ways. She needs to rise up, fight against the forces of exploitation around her and regain her rightful place. Law and legal rights are key instruments that are available in society which she needs to get access to.
There is a big gap between women victims of violence and the justice delivery mechanism like police , lawyers and the courts. The Purpose of training PLFs is to build up a force to bridge this gap. The training focuses on skill building, developing, understanding and information dissemination on topics related to the issue of violence against women, gender, police and court structures, laws and international agreements concerning women and counseling. The training provides practical sessions, exposure to police, courts and other Centers dealing with violence against women, and provides an opportunity to conduct campaigns, and legal literacy programmes.
For the last four years about 100 paralegals from five districts namely from Dakshina Kannada, Udupi, Bellary, Chitradurga, and Gadag. During the current year a massive programme is initiated in Koppal and Gadag districts to build and strengthen paralegal force to address women's rights issue.
Roadmap
Identifying women resource persons at grass root level, organizing them and capacity building.
Conducting awareness training on issues like gender, domestic violence and violence in public places; women's rights and laws, focusing on adolescent education and health awareness
Providing resource persons to various training programs at the grass root level to NGO's and Government Programs